I got a little Fourth of July holiday sewing done today. I finally crunched the numbers to figure out how to piece the blocks and background together. I got some Kona White out on the cutting board and went to town with the rotary cutter. Math scares me, but everything went together as planned.
This layout was very forgiving of variances in the size of the blocks donated by
Austin Modern Quilt Guild
members. These blocks have so many pieces that the slightest difference in seam allowance adds up by the time the block is finished. I know my first couple ended up 1/4" short. Now my seams are so scant that they tend to end up 1/4" bigger.
I was thrilled to make some progress on this WIP before the sun went down and it was time for fireworks to start. The little balcony overlooking our tiny yard is a great place for hanging quilt tops in the breeze.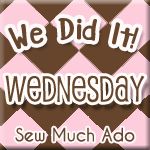 Happy Fourth of July!