Welcome! Today Sewing Over Pins is a stop on
Plum and June's Let's Get Acquainted Blog Hop
. Here's a little Q&A about me and how I like to sew!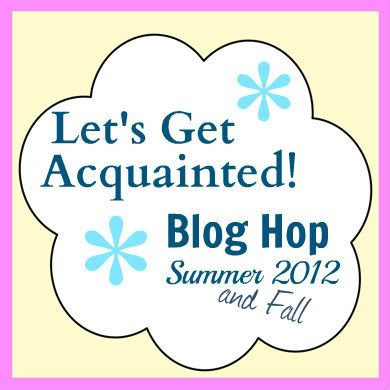 How long have you been quilting?
I learned to craft with a needle & thread as a kid. I've dabbled in some crochet, needlepoint, cross stitch, and embroidery over the years. My mom has a lifetime of garment sewing experience and my great-grandmother was a prolific quilter. I (mostly) hand pieced and quilted a queen-sized double wedding ring quilt eleven years ago as a freshman in college. I took a break for ten years ;-) and started quilting again in the summer of 2011 when the online blogging community inspired me to dive back in!
Stop when you get too tired.
Turn off your word verification for the love of Pete!
Here's how
.
I'm still in love with Kate Spain's Terrain line. Tired of hearing me talk about this fabric crush? I also love her new Cuzco line ;-)
I love that by dropping my heel on the pedal, the Bernina 1630 will lift or drop the needle!
Favorite entertainment while sewing:
Whatever's in my Netflix queue! Recently it was Brothers & Sisters. Right now it's Breaking Bad. Up next is Foyle's War and Friday Night Lights. I generally save hand stitching for road trips when Mr. Pins and I listen to episodes of This American Life.
Binding - by Hand or Machine?
A quilt has to be pretty special (and small) to get a hand stitched binding. I haven't done one of those since February. I've got my machine-sewn attachment process down pat, though, so I'm very pleased with the finished product!
Favorite finished project:
My
Marine Den quilt
has to be my favorite finish thus far. This design floated around my head for months, and I was so happy to develop the skills to actually put it together. I'd love to make an improved version and write a pattern for it soon!
It took two weeks for me to finish piecing, quilting, and binding this baby quilt back in April. I'd love to do the next version in blues!
Here are the other quilts that have kept my hands busy over the last year.
I've also pieced blocks for
Austin Modern Quilt Guild
donation quilts and hand stitched some Rose Star blocks thanks to
selfsewn's great English paper piecing tutorial
.
There's plenty of quilty goodness to talk about on the blog, so you won't hear too much about my husband (Mr. Pins), my mishaps in the garden, our two parrots, or my efforts to exercise more often than I eat queso. I love being a part of the online quilting community. Seeing other sewists' creations has definitely inspired me to push my limits, pick up new skills, and take on ambitious projects I would have otherwise been too scared to attempt.
There's lots more fun to be had on the blog hop! Poke around and make some new friends :-)
Last Thursday:
Rebecca from
Sew Festive Handmade
Marti from
52 Quilts in 52 Weeks
Today:
Kati from
Kati's Quilting
Caroline from
Quilting in the Cold
This Thursday:
Jamie from
Sweet Baby Jamie
Janine from
Rainbow Hare Quilts