A squeal of glee rang throughout my house while I was reading through Chelsea's blog at
Pins & Bobbins
. She so sweetly bestowed upon me a Liebster Blog Award!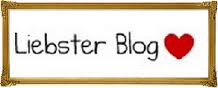 If this is news to you, here's the deal:
The Liebster award (German for favorite) is for bloggers with 200 followers or less. As a recipient of the award, you have the chance to thank and link back to the blogger who gave it to you as well as pass it along to five other deserving blogs.
Just to completely put me over the giddy edge, Chelsea said the nicest thing about what I do and share on my little crafty part of the web:
Claire Jain is a little dynamo, with more energy than I can believe! Maybe if I keep reading her blog some of it will rub off on me.
As someone who is never satisfied with the amount of sewing I get done, I was blown away by the compliment!
The other blogs Chelsea awarded are chock full of astounding projects, and I'm excited to have these amazing new blogs to follow. I'm thrilled to name some of my favorite eligible blogs (in alphabetical order) and pass along the Liebster Blog Award to these amazing ladies:
Terrain pillow
will light up your world.
Dee's Doodles
Of all the amazing Swoon quilts I've seen, her beautiful
scrappy Swoon
is my favorite.
Phone Home Designs by E.T.
Her
New York Beauty
will stop you in your tracks.
Pins & Bobbins
I daydream about
this precious quilt and the beautiful quilting
.
Selfsewn
The queen of English paper piecing who filled my life with
Rose Star Blocks
.
I know you'll enjoy their amazing work as much as I do!